Togainu no Chi (咎狗の血, lit. Blood of the Reprimanded Dog) is a Japanese BL visual novel developed by Nitro+CHiRAL. It's set in 20XX and follows a young protagonist named Akira who is forced to fight in an urban battle called Igura to clear himself of false murder accusations. In order to beat Igura, he must defeat "Il Re," whose identity is unknown.

The original game was released for the PC in 2005, and was Nitro+CHiRAL's first game.  It was rereleased under a new title Togainu no Chi: TRUE BLOOD on May 28th, 2008 for the PS2. On December 23, 2010, Togainu no Chi True Blood Portable became available for the PSP. The main artist for Togainu no Chi is Kana Tatana, who worked for Nitro+Chiral until 2006.

Togainu no Chi was wildly popular and received many spin-offs, including drama CDs, a manga illustrated by Suguro Chayamachi, several books, and an anime adaption.
| | | | |
| --- | --- | --- | --- |
| Characters | Locations | Music | Items |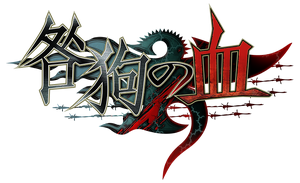 Welcome to Togainu no Chi Wiki!

This wiki stands as a comprehensive encyclopedia for everything related to Togainu no Chi and its subsequent spinoffs. We would appreciate everybody's help with contributions by editing or adding articles and lessening the stubs. It would also be ideal if you made an account, so we can monitor your contributions and grow this community.

Please see the Rules Page before editing.

This wiki contains unmarked spoilers, so proceed with caution!